Mateo Alonso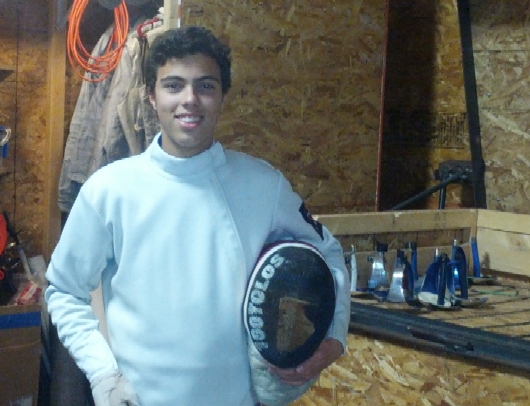 A little over a year ago, we received a call inquiring about fencing here in Billings. On the other end of the line was the soon to be host mom of a foreign exchange student from Spain. She was so excited to hear that we actually have a fencing club where her new charge, Mateo, would be able to continue his fencing during his year in, Montana.
Mateo has been fencing for seven years now and in those seven years, he has become quite skilled at épée. When at home in Spain, he fences at the 100Tolos fencing club in, A Coruña-Oleiros. He speaks very highly of his Spanish coaches and rightfully so, given the skills he has learned from them.
He has competed in quite a few tournaments including the Spanish nationals where he has fenced in both his age group events as well as senior events. He also speaks with excitement about having watched a World Cup event that was held near his home in Spain although he laments that he was only able to see the foil and sabre events, not épée, his favorite.
When asked about how he became interested in fencing, he says, "I decided to stop playing fútbol (soccer) and wanted to find another sport to do." His mother suggested he try fencing and we think anyone would agree that is has turned out to be a great fit!
His short term goal is to win a medal in his age group event in the Spanish nationals, this year. We've been practicing hard with him to help make sure he's ready when he returns home in June. His long term goal is to become good enough to fence in a World Cup event someday. We'll be watching and cheering for him when he does!
Besides fencing, Mateo competes in Track & Field at Billings West High School, where he's been attending school this year. He also likes chess, hanging out with friends and going to the beach when he's home. In Spain, he is in the eleventh grade at the Compañia de Maria High School.
Regarding his most favorite thing about fencing he says, "You never stop learning and the more you learn, the more fun you have!" His least favorite is, "Sometimes it can be a pain fixing equipment when it breaks and sometimes it breaks at the least opportune time, like just before you're ready to start an important bout in a tournament."
Mateo will be returning home to Spain in mid June after an exciting year learning first hand what the United States and specifically, Montana and Montanans are like. He says he has enjoyed his time here and we certainly have enjoyed having him. We wish him good luck in his future and hope he'll come back and visit some day. We will all miss having him here at the BSFA!